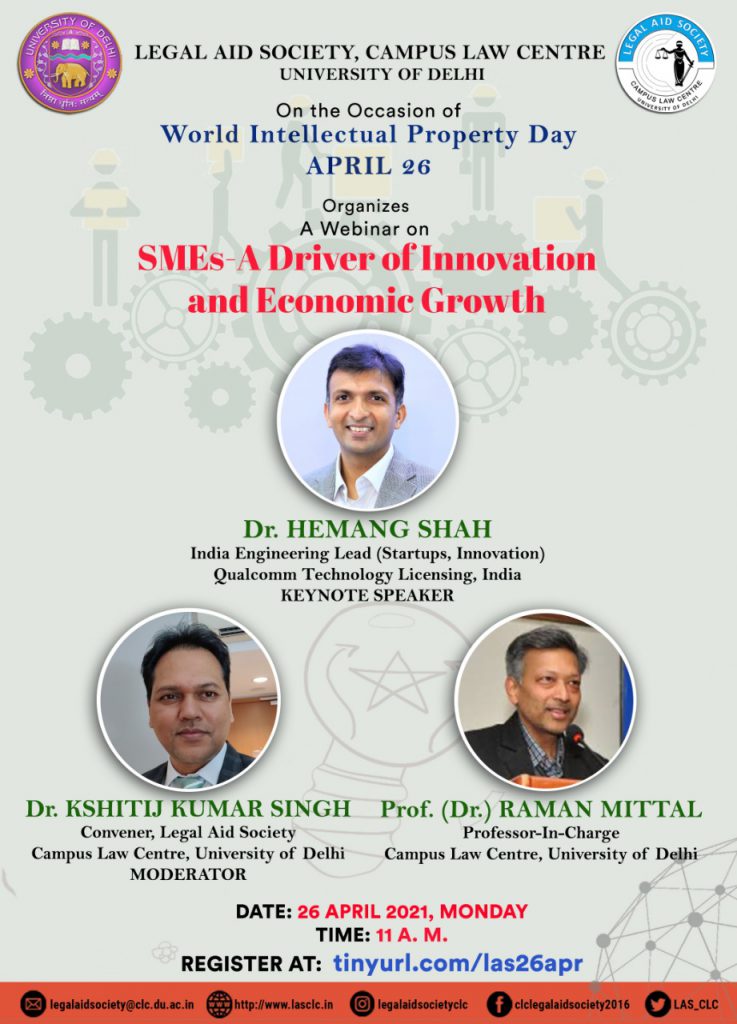 On the occasion of WORLD INTELLECTUAL PROPERTY DAY the Legal Aid Society of Campus Law Centre is organising a lecture on the topic, "SMEs – A Driver of Innovation and Economic Growth". 

The lecture will be held on 26 April 2021, Monday at 11:00 AM (IST).  
The lecture will be taken by Dr. Hemang Shah who works with Qualcomm Technology Licensing in India. Currently, he leads their engineering engagements in India including the Qualcomm Design in India Program.  Dr. Shah has experience in IP portfolio projects working on a wide range of matters for key technical areas. He has served on patent review boards for different technical areas and frequently engages with inventors. Dr. Shah holds a Doctorate in Electrical Engineering from Drexel University. He is a certified Design Thinking expert and enjoys sharing insights on innovation. He has two US patents granted and has 10+ patents pending apart from several peer-reviewed publications.

The session will be moderated by Dr. Kshitij Singh, Teacher Convener of the Legal Aid Society, Campus Law Centre.  
To participate, register on the link provided below. Registered persons will be contacted via email with the Zoom link.

Registration link:https://forms.gle/ZK9Zb71miCNN76eE6