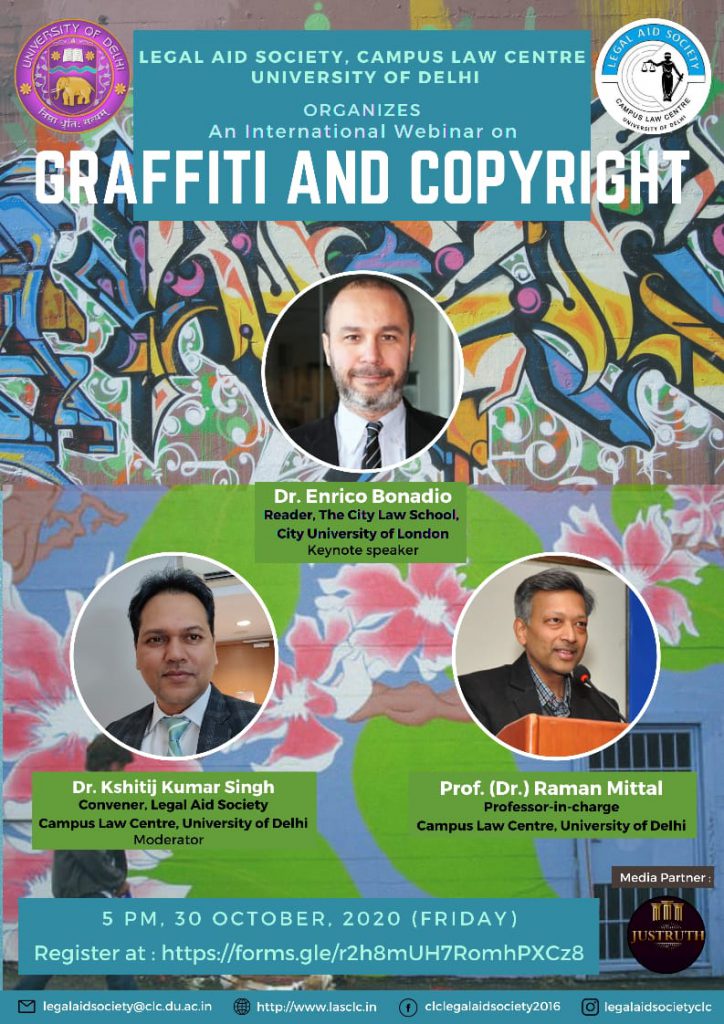 The Legal Aid Society of Campus Law Centre is organising a webinar on the topic, "GRAFFITI AND COPYRIGHT" by Dr. Enrico Bonadio (Reader, The City Law School, City University of London).
The Society hopes to draw the attention of law students and practitioners to how Graffiti is generally no longer considered to be a work of vandalism or an act of destruction of public property. It has now become a marketable commodity, with some fashion labels and major corporations even using it in their advertising campaigns. However, graffiti's legal status as art has not been established, which has raised a number of issues concerning its commercial use and begs the question of whether it can be protected by copyright.

Details of the Webinar:
Date: 30 October 2020 (Friday)
Time: 5 PM Onwards IST. 
Platform: Zoom  
To register for the Webinar: https://forms.gle/r2h8mUH7RomhPXCz8.
The relevant details will be sent to the registered participants by email. 
Contact Information: Shahbaz Shah Khan (+91-8686658382), Raghav Goyal (+91 8439216679)
All correspondence and queries may be addressed to clclegalaidsociety2016@gmail.com