Prof. (Dr.) Alka Chawla
Professor-In-Charge, CLC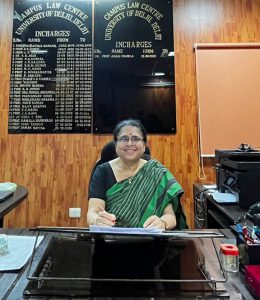 Prof. Alka Chawla is a Ph.D. in Copyright Law from the University of Delhi. She teaches Intellectual property, Administrative Law and Jurisprudence. She figured in the "Top hundred powerful women in Law" list released by the world IP Forum in 2021 and 2017. She is nominated as a "National expert on Intellectual Property " by the European Trade and Business Council,  Mentor to the Intellectual Property Protection Organisation, Advisor to National IP Organisation and Member Education Committee, FICCI. She is recipient of  'The Teacher of the Year Award (female)' 2018 given by Indian National Bar Association. 
Prof. Alka has authored two books on Copyright Law published by Macmillan and Lexis Nexis and written a number of articles and research papers in reputed journals. She is the author of a well acknowledged report on Counterfeiting and Piracy in India, a project of the Organisation for Economic Cooperation and Development (OECD), a leading think tank of Europe. She has presented well researched papers at National and International conferences and workshops
Prof. Alka has delivered lectures at various prestigious institutions and universities like The George Washington University, US; University of Edinburgh, UK; ESCP, Paris, Europe; Swiss Institute of Comparative Law, Switzerland; the Indian High Commission, London, Indian Law Institute, Federation of Indian Chambers of Commerce and Industry and various Judicial, Police and Custom Academies throughout the country. She has been a resource person for seminars, workshops and courses conducted by the World Intellectual Property Organisation (WIPO), US Patent and Trademark Office, University Grants Commission (UGC) etc.